Home Inspections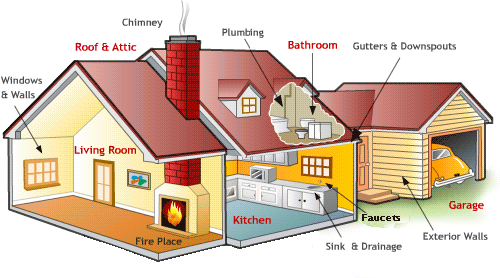 Home inspections are very important when buying a home, even a new construction homes will have things found that the builder may not be aware of at the time. Knowing the condition of what you are buying is always recommended.
Many people think a "FHA Inspector" inspects the home or that the "Appraiser" does some sort of inspection but that is simply not true; These people are seeking to determine the value of the property for the condition and if the property meets the loan program requirements.
Always have a home inspection completed! Below is a partial list of some home inspectors in the southwest Missouri area.
Property Inspectors:
1st Choice Bldg Inspectors 860-5278
A1 Home Inspections 880-4663
Accurate Home Inspections 863-9944
Amerispec Home Services 882-4443
A-Pro Home Inspection 894-1782
ARIS Home Inspections 886-2552
Extra Mile Home Inspections 693-7478
Guardian Home Inspections 882-2060
Premium Home Inspections 631-7844
Sure Look Home Inspections 827-4954
Total Home Analysis 987-3414
TERMITE:
Campbell Pest Control 831-0444
Schendel Pest Services 869-8160
Green-Co Termite/Pest Control 725-6080
These lists are provided as a service only. It Is not an endorsement or recommendation by the this Real Estate Broker or Agent. We make no representations as the quality of the work or expertise of any inspector. Be aware that inspectors are not licensed by the State of Missouri and their experience may vary considerably. Lead based paint inspectors are licensed by the state. You should personally discuss with Inspectors their fees and credentials and It is important to verify that the inspector carries professional liability Insurance. You may choose to Interview additional inspectors or consult a specialist (HVAC, foundation, roof, etc) about specific systems of the property, You may choose to review paragraph 9 with the inspector to be certain that you and the inspector understand the meaning. NOTICE: Appraisals for loan purposes and/or home warranty protection plans are not a substitute for a property Inspection and should not be relied on for that purpose.​